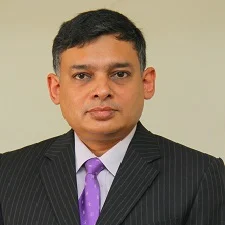 Neurosurgeon, Paediatric Neurologist, Consultant, Fellowship, FRCS, MBBS, 22 Years of experience, Hyderabad, India
Dr. Amitava Ray is one of the greatest Neurosurgeons in Hyderabad with 22 years of expertise.
Dr. Ray specialises in spine surgery and minimally invasive surgery. He sees patients for a variety of concerns, including brain tumour surgery, headaches/migraine, Strokes, TBI therapy, spinal disorders, neurological issues such as Vagus Nerve Stimulation (Epilepsy), Parkinson's disease, Peripheral Neurosurgery and biopsies, and spinal abnormalities, among others.
He is particularly well-known for his expertise in paediatric neurosurgery.
He earned his MBBS degree from Medical College, Calcutta in 1992 and FRCS – General Surgery from Royal College Of Surgeon Of Edinburgh, UK in 1997.