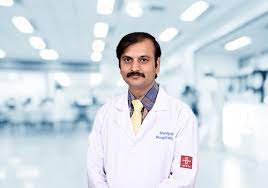 Oncology Medical Oncologist, Consultant DM, MD, MBBS, Bangalore, India Works at Manipal hospitals Life's On, Whitefield 16 years of experience
Dr. Abhay Kumar SM is a Medical Oncologist at Manipal Hospital, Whitefield, Bangalore.
He did his MBBS and MD from General Medicine from MRMC Gulbarga and his DM from Oncology from Kidwai Memorial Institute of Oncology.
His area of expertise lies in Pediatric Oncology, Head and Neck Cancers, Breast Cancers, Oral Cancer treatment among many others.
Dr. Abhay special clinical interest is in Chemotherapy, Immunotherapy and Targetted Therapy in solid organ malignancy & Hemato Oncology.
He is fluent in Kannada, Hindi, English, Tamil and Telugu.